【EXO】An Exclusive Interview of EXO's KAI!
His Second Mini-Album『Peaches』was Released on 11/30/2021
EXO is one of the most popular Korean boy bands.A world-class performer KAI is literally the central figure of EXO performances. KAI released his second mini-album "Peaches" on November 30th.With his sweet golden voice, artistic world view, and choreography, the new album was attracting a lot of attention from around the world even before its release, and now it is finally unveiled.

DAILY MORE was blessed with this very rare opportunity of an exclusive interview of KAI in celebration of the album release.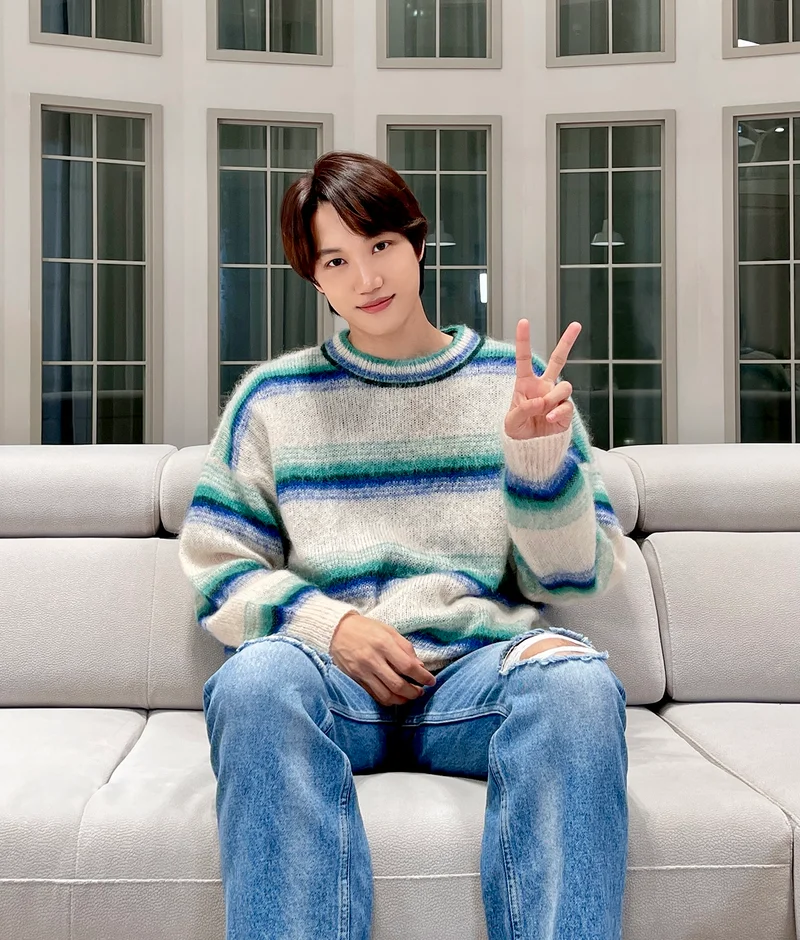 KAI Profile
DoB: January 14, 1994. A member of a Korean boyband EXO, a singer, a dancer, and an actor. A K-Pop top star in many genres. Starting ballet and jazz dance lessons at an early age, KAI is known as one of the best dancers in the industry in Korea. Featured in a popular Netflix series "New World". Active as a "Gucci" global brand ambassador; KAI × GUCCI capsule collection, released in 2021, was a great hit.
EXO Profile
EXO, derived from "exoplanet", means a new star from an unknown universe. Formed by SM ENTERTAINMENT, it was attracting a lot of attention before its debut. Formally debuted in April 2012 in Korea and China, and in Japan in November 2015. With great looks and outstanding singing-dancing skills, EXO members sometimes perform in solo and derived subgroups. As the top performer EXO has received many awards and is renewing numerous records. EXO is a unique group.
"Special Exclusive Interview"
Amid of his busy schedule, KAI spent his valuable time and addressed each of our questions thoroughly. What a nice surprise and honor! You can feel his passion for music and his sincere personality in his responses. More than a dozen questions span from behind-the-scene stories to interesting episodes in the production process of the mini-album "Peaches". Sit up and tune in. Here is KAI for you in a large volume.
Q
. The first question. Why "Peaches" for the title?
KAI
:
The word "peaches" may simply remind you of a fruit but when "peaches" and the song were superimposed I was inspired with the theme concept, the story I want to tell, dance movements, and other ideas. I looked for other words for the title but found nothing better than "peaches".
Q
. Sweetness, juiciness, ripeness, and sexiness pop up in my mind when I think about "peaches". What message did you want to convey with the word "peaches"?
KAI
:
The primary concept I wanted to communicate is, of course, sweetness. When I listened to this song, I first thought of its sweetness and I expanded my imagination from there. " How would I feel when I discover the sweetness?" Desires and lust, the sense of achievement and languor when your desire is fulfilled; I was thinking how I could share the chain of thoughts. Stories about "a divine being", "heaven", and "a golden apple" naturally came up to my mind.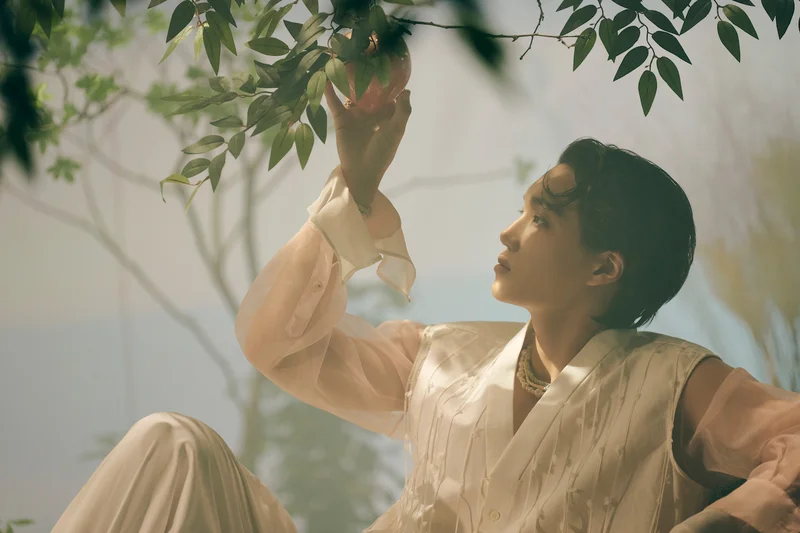 Q
. The second mini-album is a collection of sweet love songs. Is its main theme "love"?
KAI
:
Love is an essential element of the songs. But rather than love itself, complex sentiments you feel in a romance is what I wanted to express.
Q
. In your live performance on Instagram the other day, you said you had received the song "Peaches" before "Mmmh". Why didn't you include "Peaches" in your first mini-album "KAI"? How did you enhance it 19 times for its perfection as the title song?
KAI
:
When I listened to this song for the first time I fell in love with it and I wanted sing it someday. I didn't put it in my first solo album because I was saving it to tell a story with it.


I worked on it for the last two years to make it as good as I could. I modified the rhythms and instrumental melody structures here and there, and then listened to the song to confirm the changes, and repeated the process many times before I called it done. The song has a chill vibe but it's easy to sway with the melody.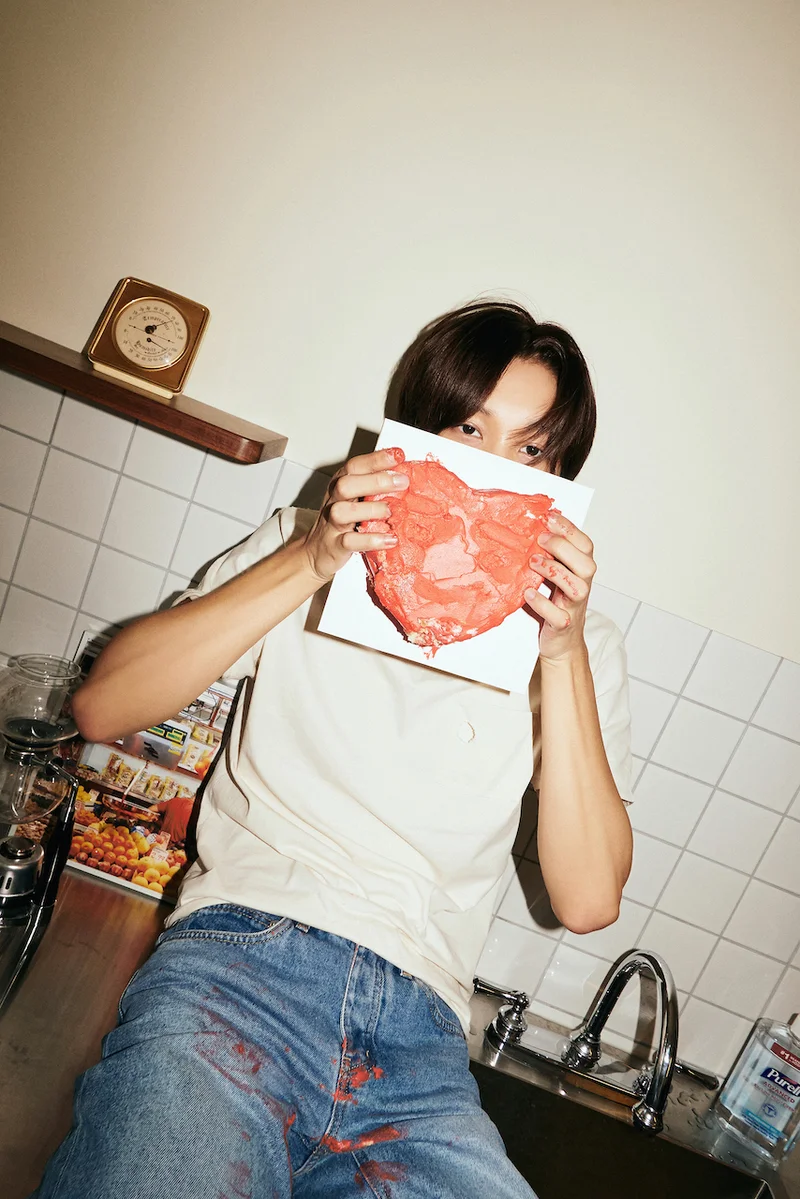 Q. In a previous question, I asked you about images a peach brings. "Happiness" could be another concept inspired by a peach. You have touched upon "happiness" on many occasions. What do you think about "happiness" now?



KAI

:

You are right. "Happiness" is also one of messages embedded in "Peaches". There is a scene in the music video where I ascend into the air. I attempted to express the feeling of happiness like flying in the sky. Happiness has different sentiments in it. A warm thought that makes you smile, rather than an excitement that makes you jump up and down, would suit better with "Peaches" I thought.





Happiness is not simple. Your happiness changes in 5 years, in 10 years, even at this very moment, depending on the situation you're in. I started my own journey again in search of a true happiness.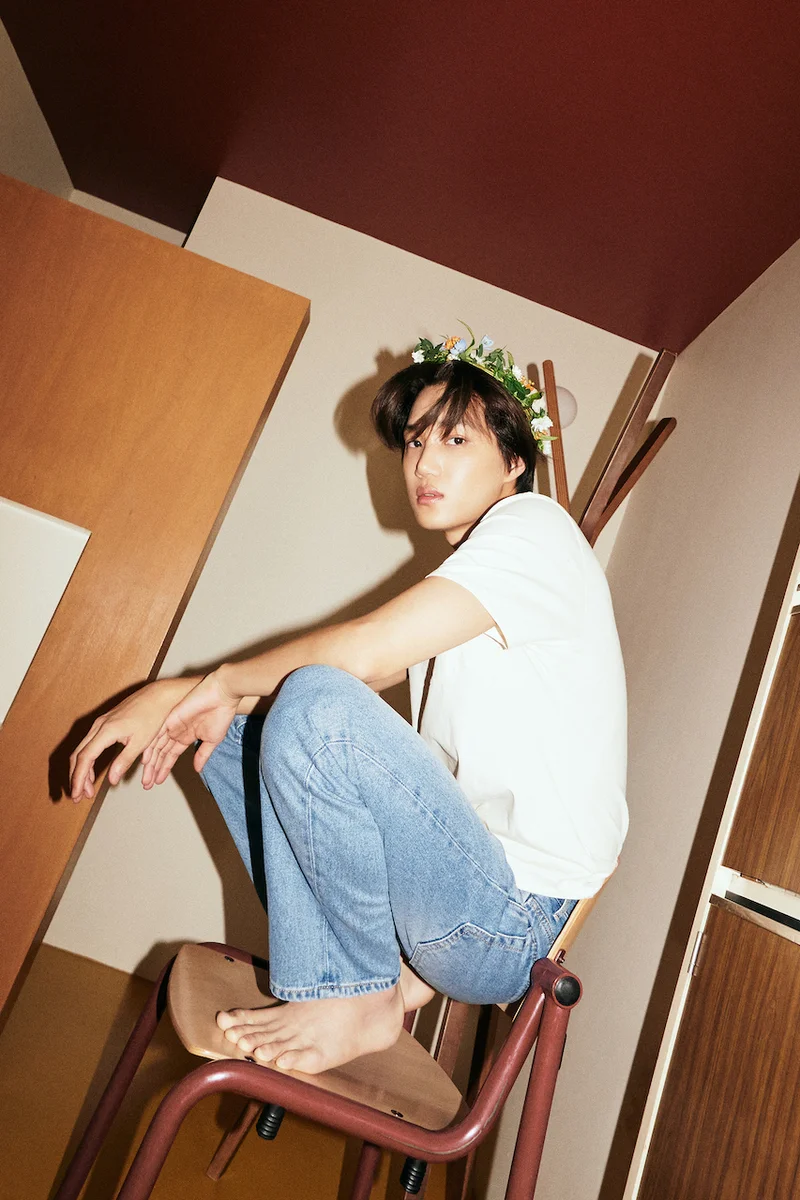 Q
. Would you describe the recording process of the title song "Peaches" as well as shooting the music video? Any unexpected events and behind-the-scene stories you can share?
KAI
:
In the production process, I had several discussions with the company. I wanted to make sure my understanding of the intent of directors and the goal of the company is clear and accurate, and I seeked for many opinions on how I would translate them to my performance. I also visited Yoo Young-jin to get his insights directly. After exchanging ideas, Mr. Yoo compiled them well to define the great product. In the process, It was a productive learning experience.
Even during recording the title song, the team evaluated multiple versions. We had several alternative options for verses, the ending refrain, and improvisation. In such a process the song was enhanced to suit me better.
I must admit, however, I had a lot of stress. I had been working on this song for two years. Although it was unintentional, my interpretation of the song had become rigid and it became difficult for me to listen to it objectively. It was tough on my ears.
Shooting the music video was a lot of fun because the dreamy set that reminded of a folk tale was cute. I was afraid the set might look like a painting or too artificial but later I learned that it was intentional to make it look as if I was telling an ancient story.
Until the very end, the music video team and I worked on the details of each concept and the set. Everyone worked very hard.
Q
. Songs on the album "Peaches" are diverse and all wonderful. In particular, "Blue" was used in the mood sampler and already gained popularity. Both "Hello Stranger" in the first mini-album "KAI" and "Blue" in "Peaches" are the last tracks of respective albums and resonate strongly with the listeners. How did you decide the order of the songs? How did you decide which songs would go into the album? Would you describe the structure of the album?
KAI
:
There is no single way to decide which songs to include in an album or the song order, but in my case, feeling is the primary driver. I want to deliver the music along with the flow of my feelings but I pay a close attention to the balance among them at the same time.
I selected the songs for this album based on what I liked and what I wanted to perform rather than specific types of music. I, of course, considered genres and ambience or feel of the songs though.
Q
. The lyrics of "Blue" sound as if you are whispering your thoughts to the ears of your fans. While producing the second mini-album "Peaches" did you discuss with lyricists about what you were trying to create?
KAI
:
The basic approach was to tell them the "feel and concept" I wanted to infuse in each song. "Blue" was featured in a concert and the feeling I experience during the performance synchronized with the mood of "Blue". It had an impact me and now I worry, "What would I do if 1+1 wasn't 2?"
Q
. A bear (곰), KAI is divine (카이는 신이다), a divo (神인가수), a human tangerine (인간귤), a peachy boy (복숭아도령). Your nicknames and descriptions are growing. What should we call you who performed as a solo singer for the second time?
KAI
:
You can call me a "human peach". I would completely immerse myself in peaches and meet you all as a peach.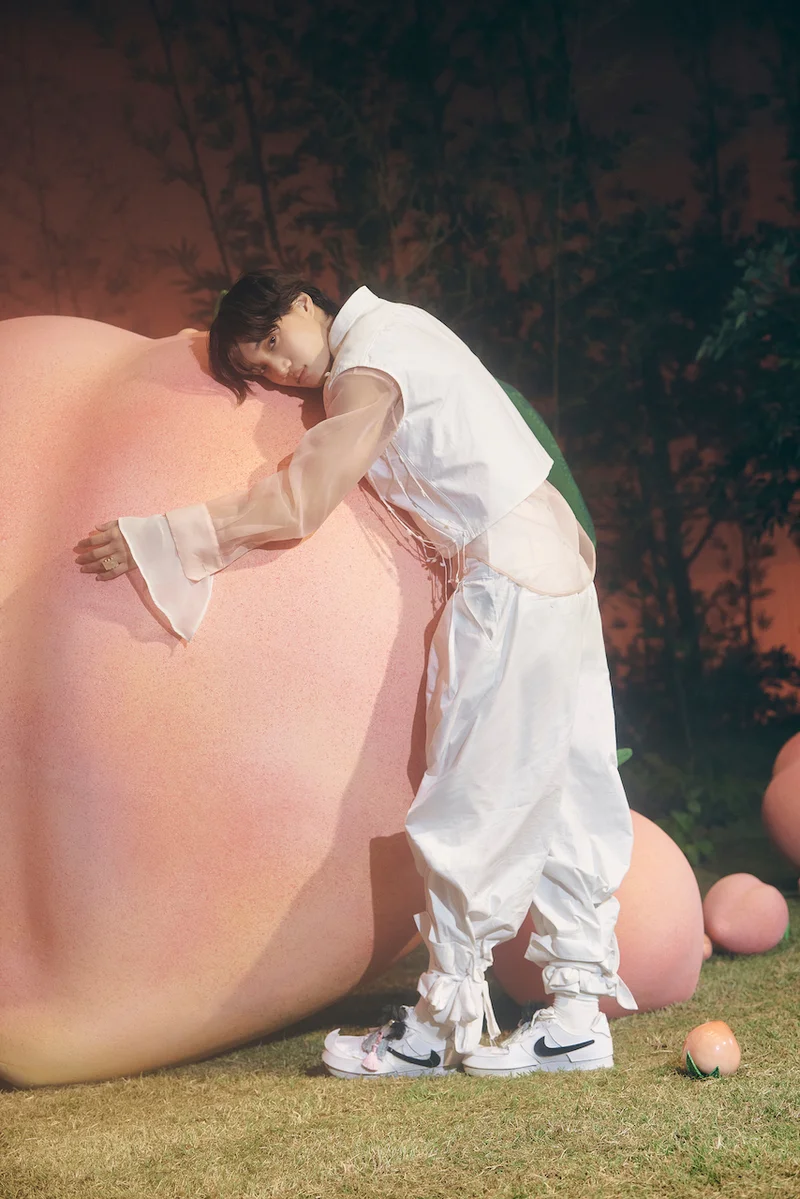 Q
. In terms of seeing inside of the mind of you as an artist, "Film: KAI" and a Vlive "KAI: The Opening Live" were sensational. Is "Prologue Film" something similar to them?
KAI
:
It's always a challenge how to bridge what I want to deliver and what the audience receives. "Prologue Film" was a result of what I encountered in this struggle. I tried to unravel the "beginning" and the "description" in "Prologue Film". While you are watching a TV at home or when you imagine something, don't you think of alternatives or "what ifs"? I am the best in my imagination; the prologue was derived from the thought of alternatives.

"Peaches" is the same. What the God or divine beings mean may be different by country or a person but I hypothesized that they may be all the same one god, just like Zeus in the Greek mythology. When Zeus descended to the lower realms he turned into different persons but they were all Zeus. That's the idea.
Q
.KAI means a pioneer, a door opener to the unprecedented. Were there any things you experienced for the first time? Something you learned or something you tried for the first time?
KAI
:
A solo concert (on December 12th, 2021 at Beyond LIVE) would be my first such experience. Preparing for it was challenging and complicated. There were many more steps in the production process than I had imagined. The director Shim Jae-won is a great leader. It was just one experience but for me it was very valuable. This experience made me think clearly what I am going to do next and how I am going to it.
Q. The world you create on the stage has been quite abstract like contemporary art since you performed solo in "Deep Breath" and "I see you". How do you translate an abstract concept or an image into some kind of a thematic form? Or is it the way around? Do you find a theme first and abstract it?

KAI:

Imagination first. I expand my imagination just like a tree expands from its trunk to branches. Once an idea is matured, stable and clear, I think about what I need for it.





In the "Peaches" project, I first told the visual director and the stylist about my idea, and then discussed more specific concepts of trees, peaches, a mountain hermit a.k.a. a hsien, and a divine being them when the cerography was developed, and they were fine tuned later.





Dance movements were same. First I visualized the song "I See You" in my mind and chose movements that best fit my imagination. I always use this approach.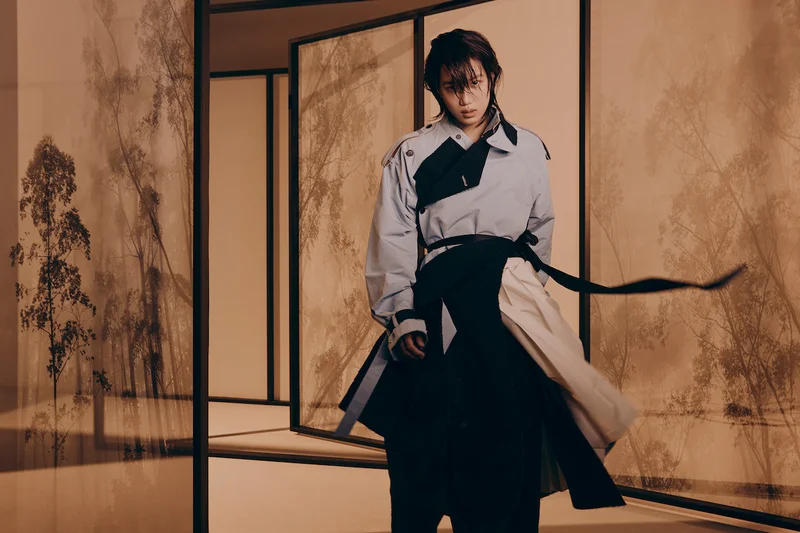 Q. Your costumes in teaser photos are very unique and striking. Do you have any interesting stories behind them?

KAI:For costumes in "Peaches" I first shared my ideas with the team. Not just a Korean man in traditional clothes. I told them about the two aspects: oriental figures like a mountain hermit and a lad, and western figures like gods. Later in the process, specific props such as a divine being, a writing brush, a hand fan, and peaches were brought up to discussions.

For the oriental ambience, the staff and I decided to modify ready-made dresses to make hanbok (the traditional Korean costume). The coat in the album came from an idea of cutting up another coat. I guess the staff and I had similar tastes, we got along well.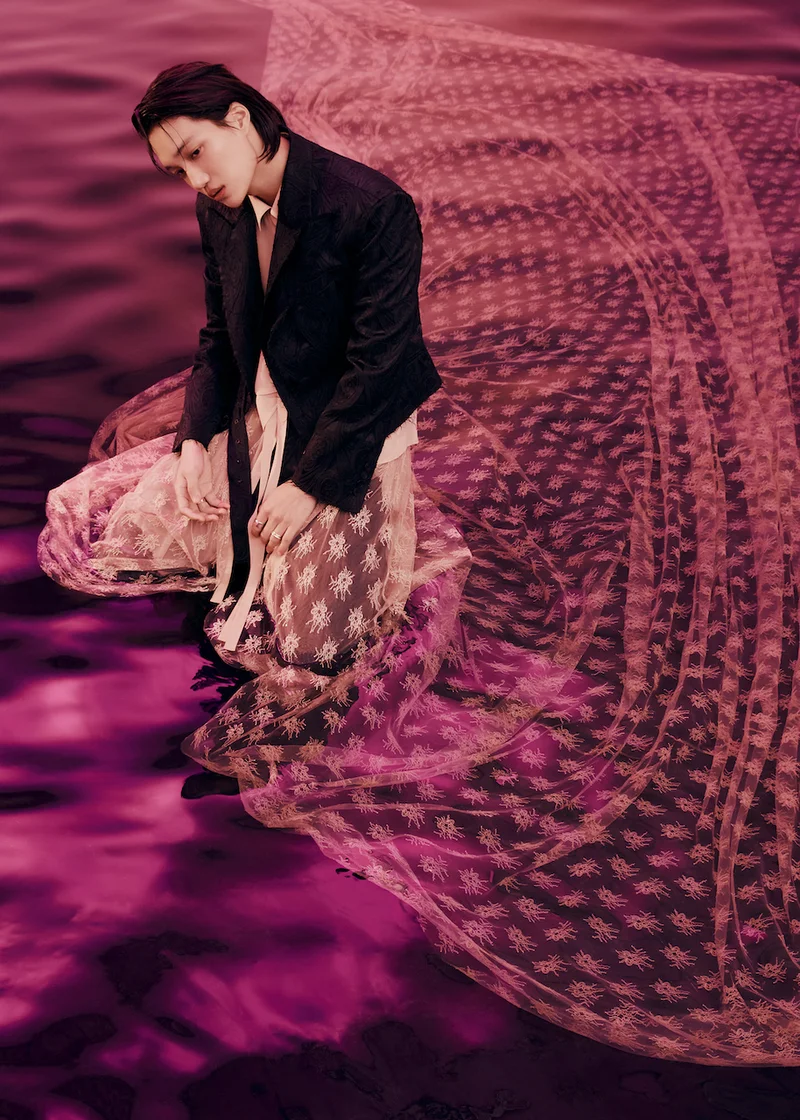 Q. Your mother is a big fan of you and her committed enthusiastic fan activities are well known among your fans. In Vline "KAI: THE OPENING LIVE" you revealed that your mother was unable to hold off her excitement and she jumped out of the house onto the street when "FILM: KAI" was released last year. How did she react to your second mini-album "Peaches"?
KAI:

My mother had been suggesting I should color my hair but this time she said she really liked the natural color of my hair. I'm always trying to please ladies in my family. I often ask for their opinions and have discussions with them because ideas they like always bring good results.
Q
. Your fans in Japan are enjoying "KAI Vlog" on YouTube as well as a Netflix reality show "New World". What would it be like if you have a chance to film "KAI Vlog" in Japan?
KAI
:
I will just start filming without much preparation. I will travel throughout Japan and capture pieces of ordinary daily lives. Creating Vlog is one thing but I really want to meet with my fans in Japan. I really want to meet with you all more than anything while I visit Japan.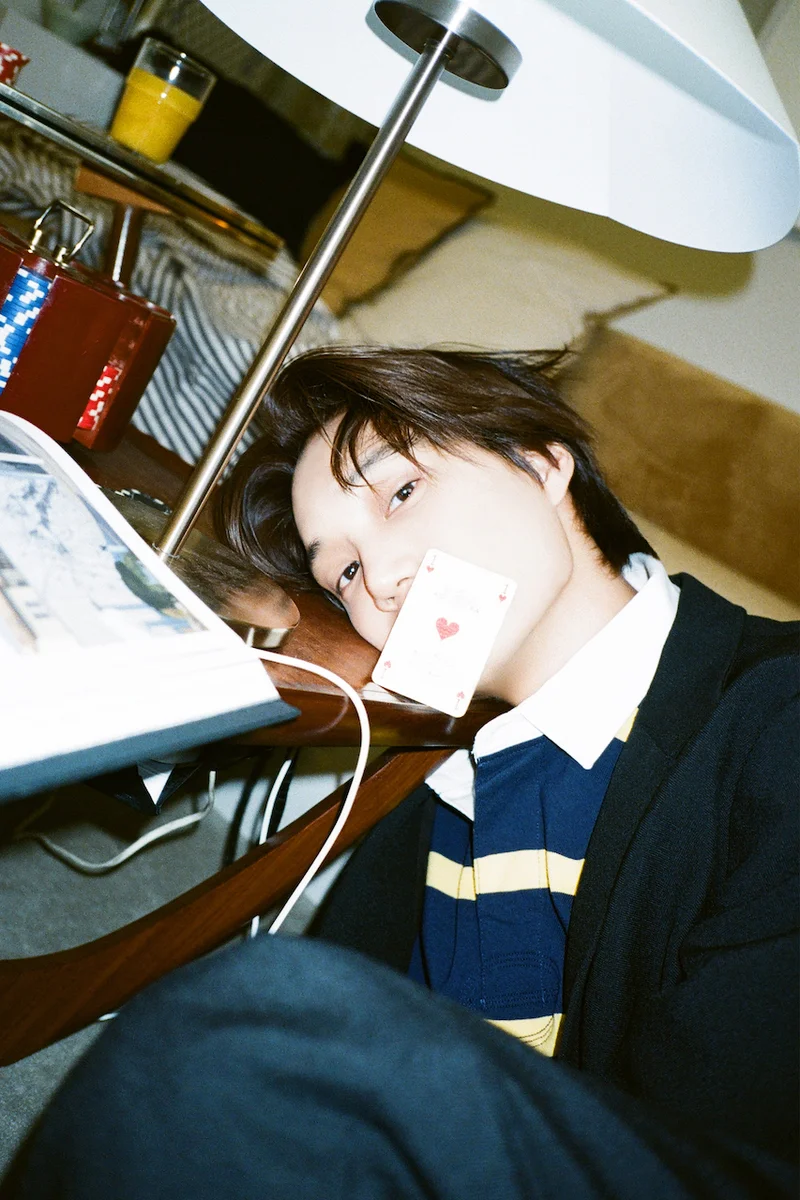 Q
. Last but not least, would you send a message to your fans?
KAI
:
Hello everyone. I am KAI.
It's been a year [since the first mini-album] and the second mini-album "Peaches" is now out. It's full of my passion and effort. I hope you feel as if you were in a paradise with me when you listen to this sweet sultry album. It is my utopia.
I love you all.


Translation/Mickie Grace Original text/DAILY MORE[11/30/2021]